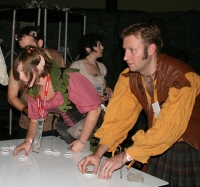 How will you help your party make it through this adventure alive?
Will you cleave your foes with your +1 Longsword? Will you command the forces of the arcane against your party's foes? Will you bolster your party with a rousing tune? Or will you use healing spells to close their wounds?
The cool design of True Dungeon is that the degree of success you have with your chosen action is not done by a simple dice roll. Rather, every character class has a special, real world test that they must perform in order to successfully attack, cast a spell, or pick a lock.