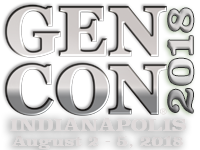 True Dungeon 2018 will be hosted at the 51st Gen Con in Indianapolis, IN from August 2nd – August 5th (Thursday-Sunday), 2018. Gen Con Indy is the world's oldest and largest game convention, and True Dungeon is its largest event. We premiere our adventuring season at Gen Con, and we present our most detailed adventure sets here.
You must obtain a 1-Day or 4-Day convention Badge either by purchasing one or earning one through volunteering. Badges go one sale Jan. 14th, 2018 at www.gencon.com (which you must have to buy tickets).
Event tickets for True Dungeon WENT on sale Sunday, May 6th at Noon (Eastern) at www.gencon.com. The results were a smash with almost 8,000 tickets being gobbled up in under an hour. There are a handful of tickets still available. CLICK HERE to see all the available event tickets for TD at Gen Con.
If you are new to True Dungeon, check out THIS VIDEO to learn more!
If you are familiar with True Dungeon, click on the image below to see a cool new Teaser Trailer for Gen Con 2018.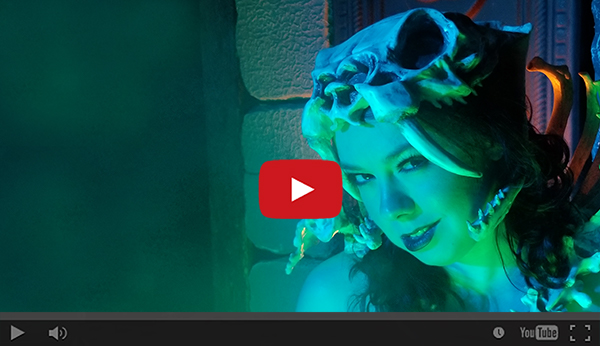 2018 Event Details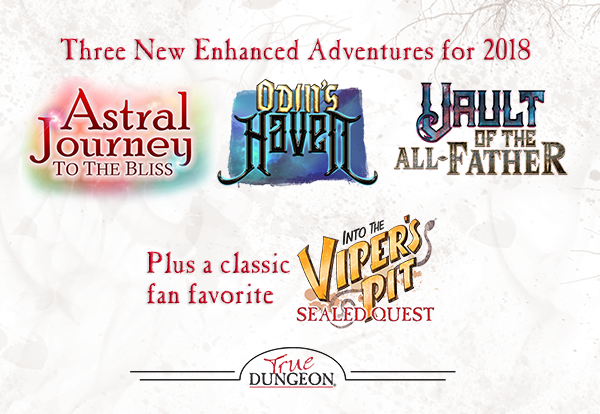 The 2018 event is the exciting third year of a four-year story arc that will take players on an amazing chase through some immersive environments as they seek to stop a vile Mind Slayer from collecting a set of holy relics known as the Teeth of Cavadar. All players of the N-Series adventures must work together while facing team-oriented challenges and fearsome monsters.
Gen Con will see the presentation of the entire three-part N-series of enhanced modules. They can be played in any order!
They include:

• N1 – Astral Journey to the Bliss [4 puzzle rooms, 3 combat rooms]
• N2 – Odin's Haven [3 puzzle rooms, 3 combat rooms & 1 "both" room]
• N3 – Vault of the All-Father [4 puzzle rooms & 3 combat rooms]
The entire N-Series of modules will mark a new era in True Dungeon history!
The 2018 N-series adventures will be presented with the largest footprint in the history of True Dungeon. Also, the quality of the sets, props, costumes and animatronics will be at a level never seen before. The traditional non-themed "holding areas" between rooms will be replaced with well-themed spaces designed to immerse players in the adventure while they await entry into the next room. Because we have an extra day of installation and a larger build crew at Gen Con, all three adventures presented at Gen Con will have the BEST look and feel of the year -- and not seen at any other convention we attend. The extra time will be used to add additional set and prop pieces – as well as fine-tune light, sound and special effect levels
Admission covers your enhanced two-hour adventure, and it provides you with a FREE velveteen drawstring pouch of 10 Treasure Tokens ($8 value), at least three draws from the Random Treasure Generator Chest (super-rare tokens can be had!) and a collectible limited-edition Treasure Token that only players can acquire. The cost of each ticket is $78.
Why the price increase from $62 to $78? We explain it HERE
New Gen Con Event Designed for New Players!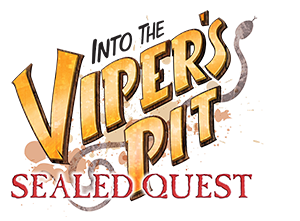 Into the Viper's Pit (Sealed Quest) is an immersive adventure where players must venture into a desert-themed snake temple to face some of the most beloved puzzles and monsters from TD's long history. A full 2,000 tickets will be offered at $48.

In keeping with the "sealed" theme, and to keep the fun more light and new-player friendly, no outside Treasure Tokens can be used. Parties can only use the tokens found in their free starter 10-packs of Treasure Tokens. Additionally, the adventures can only be run on Non-lethal or Normal challenge settings, but normal XP is available for those who did not play the event in 2014. All players will get three draws from a special random treasure generator, and every player will receive a limited-edition Completion Token.
Participation Tokens for Gen Con
As is the tradition, the Participation Tokens you can obtain by playing events at Gen Con will be kept secret until Gen Con. This is always a fun surprise for players at the end of their adventures. Every player will receive one of these free Participation Tokens at the end of their adventure. Every adventure has a different token!

Another Fun Event
True Grind: In this hackfest, players must race a series of deadly combats that will test even the most experienced and well-equipped party. No XP is earned, but 1 Treasure Chip and a Survivor Button is available. You MUST be a Second Level TD player to participate -- and expect to die without a lot of experience, skill and tokens. This is not an event for casual TD players. The cost of this event is $30.
FOUR Levels of Challenge

Due to the response from our players, we make our adventures playable at different challenge levels for the N-Series events. Here they are in order of difficulty.
Non-lethal: If all players in the group agree, the party can tell their Coach they want to play their adventure on the "non-lethal" challenge rating. This is designed for people who just want to enjoy the True Dungeon adventure without having to worry about their character dying. Awarded XP for this challenge level is 650 XP. They get only the Normal Completion token for attempting this level.
Normal: By default, the party will play their adventure on the Normal challenge level -- characters can die on this difficulty, but a good party can emerge victorious with only basic equipment as long as they work well together and think on their feet. If this challenge is too much (or insufficient) then other levels are available. Awarded XP for this challenge level is 650 + 50/room reached. They get only the Normal Completion token for attempting this level
Hardcore: If all players in the group agree, the players can tell their Coach they want to play their adventure on the "Hardore" challenge rating. This is for people who have some TD experience and at least 3 bags of tokens. Awarded XP for this challenge level is 1650 + 50/room reached. They get only the Hardcore/Nightmare Completion token for attempting this level.
Nightmare: If all players in the group agree, the players can tell their Coach they want to play their adventure on the "Nightmare" challenge rating. This is for people who have lots of experience, moxie and/or tokens. THIS IS A VERY DIFFICULT EVENT. Awarded XP for this challenge level is 1650 + 50/room reached. They get both the Normal and Hardcore/Nightmare Completion tokens for attempting this level.
Experience Points Earned

Players receive Experience Points (XP) for playing TD adventures and gain various benefits for achieving higher levels. Some TD veterans are now 8th level. The amount of XP earned is based on the challenge rating of the adventure as well as how many rooms your character makes it to alive. (Your character need not survive the entire adventure to get max XP, s/he just needs to enter the final room alive.)
True Dungeon Classic (under 4th level) = 500 XP
Non-lethal = 650 XP
Normal = 650 XP + 50 XP/room
Hardcore= 1650 XP + 50 XP/room
Nightmare = 1650 XP + 50 XP/room

If a player plays the same adventure more than once, they receive the highest XP earned in all runs of that particular adventure. So someone playing an adventure twice, once at the Normal level and once on Nightmare level, will receive only the XP for the Nightmare adventure. (I.e., the XP awards for the same adventure don't stack.) The highest XP available for Gen Con Indy 2018 is 6,000 XP – if the player makes it to the final room of three different adventures on Hardcore or Nightmare difficulty.
Participation Tokens

As stated earlier, players earn a cool limited edition participation token just for playing a TD adventure. For the two-hour adventures, anyone playing on the "Non-lethal" setting will receive the Normal participation token, but no Survival button can be earned.
True Dungeon Riddle Reveal

Tickets for this 1.5 hour seminar can be obtain HERE. This will be hosted by Jeff Martin and senior volunteers who will answer your questions about the adventures presented at Gen Con. At the end of the seminar a handful of old props and other tidbits will be auctioned off with Treasure Token gold pieces being the currency.
True Dungeon 101

This one-hour seminar, presented by a group of great TD veterans, is highly recommended for new TD players. This seminar will be offered at three different times to better suit your schedule. You can available free tickets HERE.
True Dungeon Located In Lucas Oil Stadium
We moved from the Indiana Convention Center in 2016 to the adjacent state-of-the-art exhibit hall inside Lucas Oil Stadium. Easy access to the TD event is gained through a well-lit underground corridor that connects the convention center to LOS. Additionally, now that Gen Con is renting out the entire stadium, you can access TD's location from the football field. CLICK HERE to see TD's location.