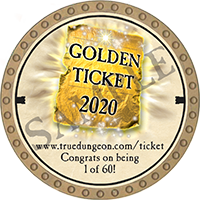 We have randomly inserted 60 special Golden Ticket tokens into the 2020 token collection. If you found one of these special tokens inside one of your 10-packs, congratulations!
Please bring your Golden Ticket token to the True Dungeon event outside Exhibit Hall 2 in Lucas Oil Stadium at 6:45 pm on Wednesday, July 29th, 2020 to sign your waiver and get wristbanded. You then go to your private Coaching Room where your "event start time" will offically be either 7:00, 7:01, 7:02, 7:12, 7:13, or 7:14 (depending on your adventure chosen at the link below). You can chose from one of the three epic adventures: S1 - Weird Magic, S2 - Darkhold Keep, or S3 - Tomb of Terror.
You will also receive a limited edition, custom printed dice bag that contains many hard-to-obtain 2020 tokens.
Please go to the official TD Forums and let your fellow Golden Ticket winners that you are ready for adventure! Teams are already forming HERE.
Congratulations, again! Well done!