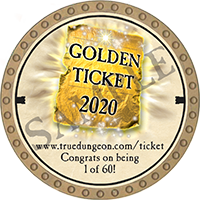 We have randomly inserted 60 special Golden Ticket tokens into the 2020 token collection. If you found one of these special tokens inside one of your 10-packs, congratulations!
Please bring your Golden Ticket token to the True Dungeon event outside Exhibit Hall 2 in Lucas Oil Stadium at 6:45 pm on Wednesday, July 29th, 2020 to sign your waiver and get wristbanded. You then go to your private Coaching Room where your "event start time" will offically be either 7:00, 7:01, 7:02, 7:12, 7:13, or 7:14 (depending on your adventure chosen at the link below). You can chose from one of the three epic adventures: S1 - Weird Magic, S2 - Darkhold Keep, or S3 - Tomb of Terror.
UPDATE on 5/29/2020: As reported in the last newsletter, due to the cancellation of Gen Con we are making a special virtual event for all holders of 2020 Golden Ticket tokens. Players who received a random Golden Ticket token must use our Transmuting system to mail in the token.
UPDATE on 7/01/2020: BIG NEWS! We get to honor our pledge of having a full preview run of a TD adventure. Now the we are running a Virtual True Dungeon adventure on the Friday, Saturday and Sunday of Gen Con, we can now host our normal Golden Ticket runs on Thursday night this year -- as we have in the past (on Wednesday). This means the GT event is now a full 2-hour preview run of V1 - Nymph & Nimblewit.

NEW CHANGE: Once we receive and process your Golden Ticket token at TD HQ, we will send you a notification email. This will enter you into our system so that you will be emailed needed game info and links before the event -- as well as being mailed your swag after the event. If we do a Virtual True Dungeon during Gen Con weekend, then you will either receive a coupon code for a free run -- or the Golden Ticket run will be a full two-hour adventure (plus special thing at the end). More info will be released in late June.

Also, we will be using the forum listing to place folks into groups, so be sure to visit the Forum to claim your spot. The times for these events on the night of Thursday, July 30th is 7:00pm, 7:12pm, 7:24pm, 7:36pm and 7:48pm.
If you have any questions, please email This email address is being protected from spambots. You need JavaScript enabled to view it.
Congratulations, again! Well done!