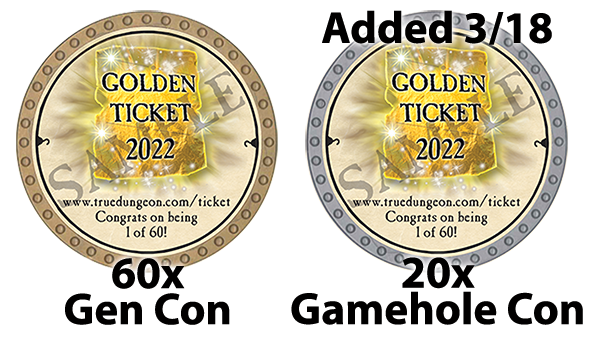 We have randomly inserted 60 special Golden Ticket tokens (with 20 added on March 18th) into the 2022 token collection. If you found one of these special tokens inside one of your 10-packs, congratulations! The GOLD-backed token is your ticket to a special run of True Dungeon on Wednesday night at Gen Con 2022. The PLATINUM-backed token is your ticket to a special run of True Dungeon on Friday afternoon at Gamehole Con 2022. At the end of these adventures, you'll get an extra bit of fun as well as some super-sweet swag.
How to Sign Up: Browse to the Special Redemption section on the Token Exchange Program page. There you'll have the opportunity to "order" a GOLD-backed or PLATINUM-backed Golden Ticket reservation. This gives you the ability to enter your Golden Ticket token into our system and then send it back to us. This gives us your shipping address for the awesome swag that you'll receive after the event.
Please Note:
You cannot buy a Golden Ticket from us in this manner. This system is to register a Golden Ticket that happened to be randomly inserted into your token order or via a third party. When you register your Golden Ticket token and send it in, you will not get it back.
If you and one or more people are going on the Golden Ticket run together, each person needs to register their Golden Ticket token separately. I.e., do not register more than one Golden Ticket.
Also, we use the TD Forum to place folks into groups, so be sure to visit the Forum to claim your spot on a specific run.
GOLD-backed Golden Ticket Link
PLATINUM-backed Golden Ticket Link
If you have any questions, please email This email address is being protected from spambots. You need JavaScript enabled to view it.
Congratulations! Well done!