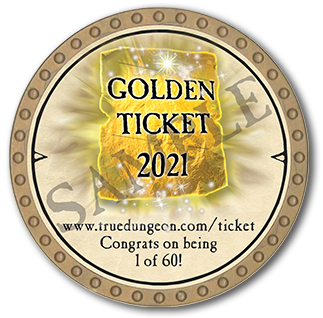 We have randomly inserted 60 special Golden Ticket tokens into the 2021 token collection. If you found one of these special tokens inside one of your 10-packs, congratulations!
FINAL UPDATE: The Golden Tickets events will take place virtually on Thursday, July 15th with start times every 12 minutes between 6:00pm to 7:12pm Central. These groups will be the first to run through V5c - Ashwind Abbey which will begin running to the public on the next day.

How to Sign Up: During the first week in May, we will open up a special item in our Transmuting Program to allow you to enter your Golden Ticket token into our system -- and then send it back to us. This will give us your shipping address for the awesome swag that will be coming after the event.

Also, we will be using theTD Forum listing to place folks into groups, so be sure to visit the Forum to claim your spot.
If you have any questions, please email This email address is being protected from spambots. You need JavaScript enabled to view it.
Congratulations! Well done!