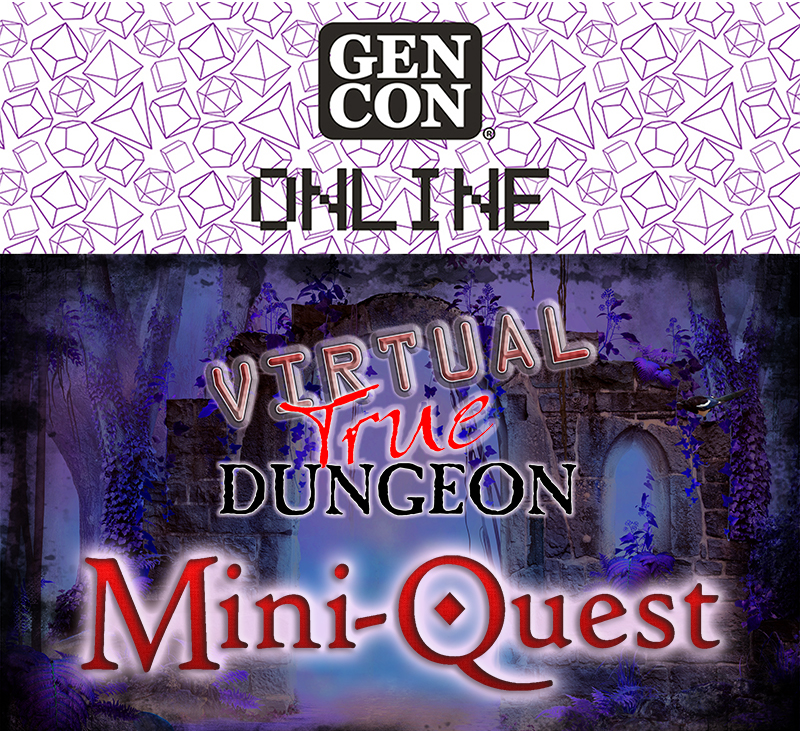 Virtual True Dungeon: Mini-Quest - "Bogwood Befouled"
CLICK HERE to view our quick teaser trailer!
CLICK HERE to see a video on how Virtual True Dungeon works!
CLICK HERE to read our FAQ

True Dungeon is excited to announce that we are hosting a one-hour virtual adventure during Gen Con Online (Sept. 17th-19th). This special adventure tasks the party to end the source of evil that has tainted the Bogwood Forest.
Event registration for Gen Con Online opens at noon Eastern Daylight Time (16:00 UTC) on August 15th. The Gen Con Online event catalog becomes available on August 6th so you can browse events and build your wish list before event registration opens. A free Gen Con Online badge is required. Badge registration is open now.

The adventure features fan-favorite combat and puzzle rooms from our previous V-series of full two-hour virtual adventures. If you have been curious about how VTD works, this is your chance to grab your friends and try it for the low price of $18 per ticket. Unlike standard VTD adventures, Mini-Quest participants do not receive treasure pulls, player 10-packs, participation tokens, or survivor buttons after their adventure. However, all Mini-Quest players receive an XP code worth 500 XP. Players who have already played at least one VTD adventure cannot earn XP from playing the Mini-Quest "Bogwood Befouled".
True Dungeon virtual adventures use Zoom to connect you and your party to your virtual DM. Be sure to have Zoom installed before you start your adventure. We also use one of two mobile apps or a web-based tool to manage the mechanics of combat and make your adventure even more fun. Please install and make yourself familiar with one of these tools:
Feel free to look at all the characters to see which ones you might wish to play. Each character is already equipped with good tokens--including at least one Ultra Rare! If you have any questions, please ask on our Forum HERE.