True Adventures, Ltd. and MomoCon are excited to announce their new partnership with the world premiere of a new True Dungeon adventure at MomoCon in May 2020. The highly-immersive live-action D&D escape room game is entitled "S1 - Weird Magic." It challenges players to sneak into a foreboding tower owned by an evil sage who wields both magic and alien tech. Tickets ($58) go on sale Jan. 28, 2020. All players must purchase both a MomoCon convention badge and a True Dungeon event ticket to play the two-hour adventure. The teaser trailer can be seen here.

Completion Tokens
At the conclusion of their adventure, all players of "S1 - Weird Magic" receive a completion token. The token received depends on the challenge rating their party elected to run for that adventure.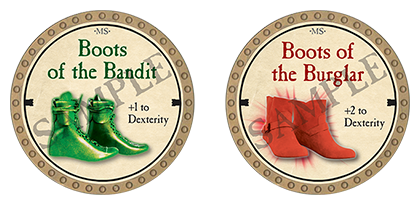 Volunteer Tokens
All True Dungeon volunteers at MomoCon receive a special token only available to volunteers. Part-time volunteers receive a Shirt of the Panther token and full-time volunteers receive a Pants of the Panther token. For more information about volunteering for True Dungeon, please visit tdvols.com.