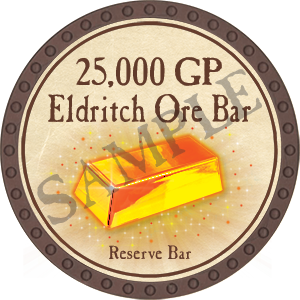 There is an option available in the TD Store to "order" one or more Reserve tokens. This "ordering" is not actually buying the specific tokens (which is NOT possible), it just starts the process for collectors to convert smaller units of tokens with a GP value into larger (and less back-straining) denominations, referred to as Reserve tokens. The website guides collectors through the online forms, instructs you to print out an address label & packing slip, list the total GP value of the tokens to be shipped to TD, and the total GP value of all the Reserve tokens the player expects to have mailed back.
When sending in tokens to be converted to Reserve, please make sure the total GP value of all the tokens you're submitting is evenly divisible by 1,000.
All of this is then mailed to TD HQ. Your transaction is normally processed 1-2 business days after it's received. There is a flat $8.00 shipping fee for all shipments. If you wish to purchase new tokens as well as send in convert small GP-value tokens to Reserve(s), we'll gladly ship both lots simultaneously for the same $8.00 rate.
You can only get Reserve tokens by using the online ordering system or at select in-person events. Reserve tokens are not available during Gen Con. Mail-in Reserve exchanges temporarily cease two weeks before and one week after every in-person event. Other than the aforementioned blackout periods, Reserve tokens may be exchanged year-round.
All orders sent to collectors are shipped via USPS Priority Mail with Confirmation Delivery service within 1-2 business days. Most orders arrive within 2-3 business days once shipped. We may occasionally run out of stock, but if that happens we will notify you of the delay and expected restock date.
We highly recommend you send us your Reserve token shipment with some kind of tracking! True Adventures, Ltd. is NOT responsible for any tokens lost in the mail while in route to TD HQ.

(Click to Begin)
These are the three currently available Reserve tokens: