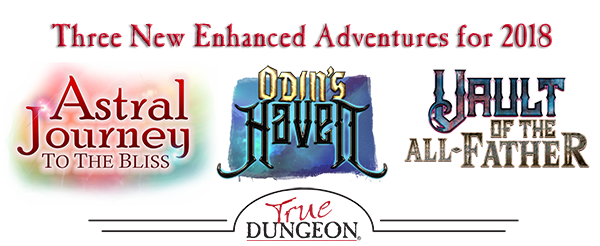 True Dungeon is pleased to announce exciting new plans for the 2018-2019 adventure season. The information presented below is different than released earlier this year, so please read this update carefully.

Origins 2018

CLICK HERE to view event catalog. Tickets on sale at Noon CDT on Sunday, April 29th.
The 2018-2019 adventure season will start at Origins Game Fair 2018 in June with the presentation of five different adventures. The first four modules ("The Moongate Maze" and "Dancing Among Stones" each with a combat and puzzle-oriented version) are based on the literary world of Patrick Rothfuss and give players a chance to visit the Fae and the Waystone Inn where they meet characters from his acclaimed novels. These adventures were previously presented at Gen Con 2017, Gamehole Con 2017 and PAX South 2018. The price of admission for any Rothfuss-themed adventure will be $48. Click on the image below to see our teaser trailer for the events presented at Origins Game Fair.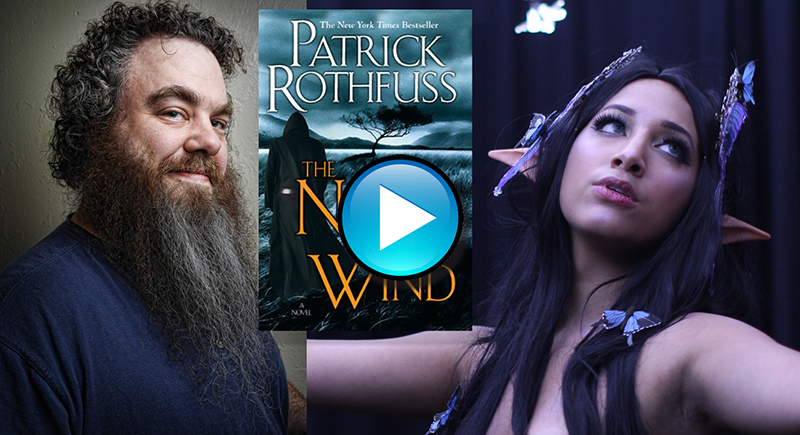 The fifth Origins module called "N1 - Astral Journey to the Bliss" will be making its world premier at Origins Game Fair 2018, and it will represent the first of three completely new N-series modules debuting in 2018. The other two N-series modules ("N2 – Odin's Haven" and "N3 – Vault of the All-Father") will premier at Gen Con 2018. The N-series is a group of three consecutive modules based around a Norse theme.

"N1 – Astral Journey to the Bliss" (and the entire N-series) will mark a new era in True Dungeon history. Starting with the N1 module, all future True Dungeon adventures will be presented with a larger event footprint than ever before. The quality of the sets, props, costumes and animatronics will be at the level that was achieved with the "Dancing Among Stones" adventure presented at Gen Con 2017. The non-themed "holding areas" between rooms have been replaced with well-themed spaces designed to immerse players in the adventure while they await entry into the next room. The cost to play this two-hour adventure at Origins will be $58.


Gen Con 2018
Tickets go on sale HERE at Noon EDT on Sunday, May 6th.
If you want to see a cool new Teaser Trailer for Gen Con 2018, click on the image below!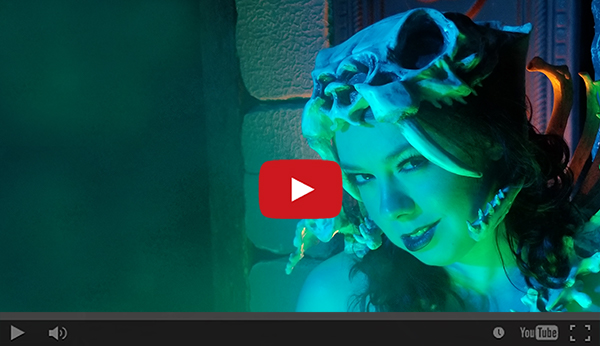 Gen Con will see the presentation of the entire three-part N-series of modules. They can be played in any order!
They include:

• N1 – Astral Journey to the Bliss (previously presented at Origins)
• N2 – Odin's Haven (premieres at Gen Con)
• N3 – Vault of the All-Father (premieres at Gen Con)

Because installation begins Monday at Gen Con (and Tuesday at all other shows), all three adventures presented at Gen Con will have an improved look and feel not seen at any other convention. The extra time will be used to add additional set and prop pieces – as well as fine-tune light, sound and special effect levels.

True Dungeon has been offering four adventures at Gen Con in recent years, so this new presentation paradigm of larger and better-quality events will see a reduction in the number of adventures due to space constraints. Thus, a total of 6,000 tickets will be available at Gen Con (instead of the 8,000 available in 2017). The price to play this two-hour adventure at Gen Con will be $78.
Why the price increase from $62 to $78? We explain it HERE.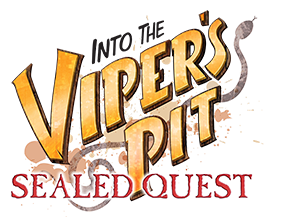 Into the Viper's Pit (Sealed Quest) is an immersive adventure where players must venture into a desert-themed snake temple to face some of the most beloved puzzles and monsters from TD's long history. A full 2,000 tickets will be offered at $48 -- which is $14 less expensive than last year's comparable Moongate Maze adventure.

In keeping with the "sealed" theme, and to keep the fun more light and new-player friendly, no outside Treasure Tokens can be used. Parties can only use the tokens found in their free starter 10-packs of Treasure Tokens. Additionally, the adventures can only be run on Non-lethal or Normal challenge settings, but normal XP is available for those who did not play the event in 2014. All players will get three draws from a special random treasure generator, and every player will receive a limited-edition Completion Token.
.
True Grind and the TD 101 seminars will return to Gen Con, too.

Gamehole Con 2018

We will present the same entire N-series modules at Gamehole Con 2018 that we are presenting at Gen Con 2018. Due to time constraints for installation, the level of immersiveness of the event will be the same as presented with the N1 module at Origins 2018. The tickets will require a $58 level of support.

PAX South 2019

We are in the process of setting up the details of this show with the fine folks at PAX South. We will seek to present the same three-adventure presentation seen at Gamehole Con 2018 with the same level of immersiveness and ticket price ($58). However, until a final agreement is reached, these details are not finalized.
Note About Experience Points
Experience Points gained during the 2018-2019 adventuring season can be earned only once from each of these three new Norse (N-series) adventures regardless of where they are played. For example, a player will only get XP credit for the furthest room they reach during multiple runs of the N1 module even if they play N1 at more than one convention.

Thank you for your amazing support of our event over the past 15 years. Your funding has allowed us to continually enhance the quality of True Dungeon, and we look forward to the big leap in immersiveness we will see this coming adventuring season.