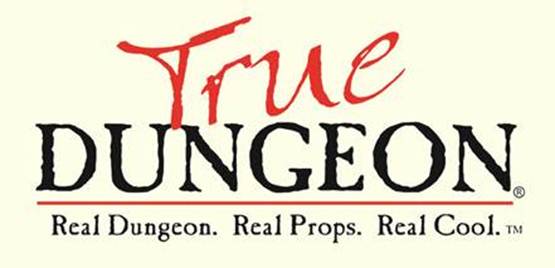 Volunteer
NOW!

The 2013 Online Volunteer Form is Open!
True Dungeon took a HUGE step forward at Gen Con Indy 2012 when we moved to Exhibit Hall D inside the Indiana Convention Center. It was great to have all that room as well as more pre-Con set-up time, and the 200+ volunteers who pulled it off should be very happy with the results. We gave over 7,000 gamers a chance to escape into an immersive adventure that is quite unlike anything else in the world. It is really a great honor for me to be involved with something so cool, so fun and so special in the gaming world. And it is all due to an excellent group of passionate volunteers who want to help make the magic happen. I very much appreciate all the tremendous help we received in 2012, and I am now asking for your help in 2013.
The biggest bummer about True Dungeon 2012 was the fact that not enough tickets were available for all the gamers who wanted to play. This also made it difficult for TD Volunteers to find suitable ticket times. So, in 2013, plans call for us to add an additional adventure to the event. There will be two consecutive adventure modules, and each module will have two variations of either a combat or puzzle orientation. The first module called "Lycans Afoot" tasks the party to travel through a dark forest in search of a tower, while the second module called "Golembane" challenges the party to reach the top of tower.
But we cannot do this expansion without your support! Please consider volunteering for True Dungeon – at least in a part-time position. There are some great benefits, and you will make some cool new friends. True Dungeon volunteers are special people whose idea of fun is making fun for other people. They are gamers to get to know, and you won't find a better group of people anywhere!
We have made some big improvements to the TD volunteering experience for 2013:
Additional compensation for Certified Combat DMs and Certified Coaches
If you complete our new online certification program prior to July 1st, 2013, (and you are scheduled in a certified Coach or Combat-DM position at Gen Con Indy) you will receive additional compensation for your extra efforts.
"Part-time Certified Coach" or "Certified Combat-DM Position": You will receive a $100 stipend in the form of a check upon completion of all shifts on Sunday at Gen Con Indy.
"Full-time Certified Coach" or "Certified Combat-DM Position": You will receive a $250 stipend in the form of a check upon completion of all shifts on Sunday at Gen Con Indy.
To sign up for either one of these certifications, you only have to select that job as a preferred position, and you will be contacted later with additional information. You must volunteer all the hours you are scheduled to work at Gen Con Indy, and if you do so you will get your stipend check at the end of your Sunday shift.
The online certification process will be available in April 2013. It will involve a series of online reading assignments, videos and exams. More information will be released in March of 2013.
More Flexibility with Your Scheduled Volunteer Shifts
We have expanded the following sign-up form so that you can specify which shift you prefer for EACH DAY of Gen Con Indy. We will do our best to give you the schedule that works best for you.
Bigger Anti-Fatigue Mats and the Addition of Tall Stools
We are investing more into anti-fatigue mats so that Coaches and DMs stay fresh and comfortable during their shifts. There will be more mats available in larger sizes. We will also have some high, backless stools available for volunteer use when their duties do not require standing.
Full-Time Volunteers Get a FREE ULTRA RARE token!
Full-time volunteers will receive a free Ultra-Rare, Limited Edition, Volunteer Exclusive token at the end of their shift on Sunday! Part-time volunteers will receive a Rare version of the same token!
Thanks for your help in 2013. It is GREATLY appreciated!
Jeff Martin, Executive Director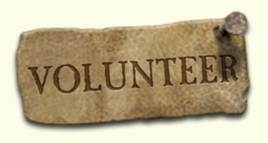 CLICK HERE to fill out our official online True Dungeon Volunteer form.
PLEASE SEND THIS LINK TO ALL YOUR GAMER FRIENDS
PLEASE POST LINK ON FACEBOOK
Pre-Orders NOW OPEN! Condensed Packs Going Fast!
The True Dungeon Store is OPEN and READY to take your pre-orders for the 2013 Treasure Tokens™ collection. The tokens should be shipped out to you in middle to late January. We have a limited number of $1K Condensed Packs that sell out every year. If you wish to take advantage of the Condensed Pack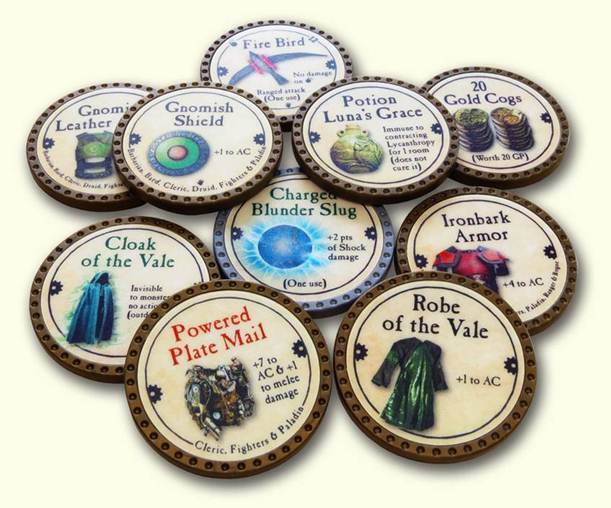 Program, you should consider placing your order sooner rather than later. In any event, the ability to select a $1K Condensed Pack expires on January 15th, 2013.
CLICK HERE TO SEE 2013 TOKEN INFO!
Treasure Token Database Website Updated to 2013!
True Dungeon has a cool online searchable database website that is a great reference tool for looking up all 2003-2013 Treasure Tokens™. You can search by Class, Slot, Rarity and Year. If you have any questions of the new 2013 Treasure Tokens™, this is a great place to look!
2013 Quick Token Reference Available for FREE Download!
Hot off the virtual presses is the 2013 Quick Token Reference that provides vital information on all the 2013 Treasure Tokens™.
It includes a cool "2013 Token Checklist" that provides some clues as to the volunteer and completion tokens available only at Gen Con Indy 2013.
Click on the image of the QTR to download your copy now.
CLICK HERE TO SEE 2013 TOKEN INFO!